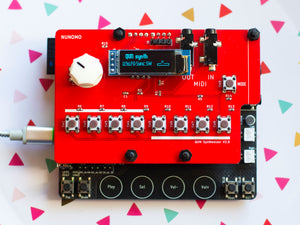 QUN Pocket Synthesizer
Sale price Price $ 95.00 Regular price $ 105.00
Based on ESP32 Lyrat development board, Qun is a powerful and unique pocket synthesizer.
In general, cheap synthesizers don't have full flexibility because of hardware limitations.

I was dreaming if I can get a small synth that has full flexibility of the real synth with an affordable price tag. Qun is the synth.

I made the sound engine from scratch, so it is a totally unique sound engine.
Once you get used to it, it will be so powerful and it will provide tons of flexibility. It is a real synth, not preset machine.
If you are looking for some unique sounding synth, this is it.
Estimated shipping time: about a few days to one week
ESP32 Lyrat

Originally designed for smart speaker.


Analog Modeling engine

The analog modeling engine is made from scratch.
All analog modeling engine parameters can be configured through MIDI.
2 Oscillators, it can be used as dual tone.
Flexible MOD (CV) routing. The signal routing is very flexible, close to modular synthesizer experience. You can route signals as normal, or totally radical.
AUX input can be used for external audio signal, or for modulation.
4 Envelove Generators
FM (4 Operators x 2)
1 LFO, rate can be controlled by MIDI notes
1 Organic sounding VCF

2/4 Poles, Low-pass, Band-pass, High-pass, Notch)
Keysync

1 Effect (Delay, Chorus, Flanger)
MIDI clock sync and beat clock sync
Wavefolding.

Granular synthesis

Oscillators can be used as a granular synthesis engine.

Player / Sequencer

Player (Piano mode)
Mind inspiring 8 step sequencer will generate beats for you

Note On/Off/Double/Triple
Transpose / Note width(Length)
Randomness control
Pattern shuffler
Scale quantize
Arpeggiate steps

Looper

Looper can record the sound up to 30 sec, synchronized with the sequencer.

Play / Rec / Overdub
For the completed manual and other resources, please visit https://github.com/raspy135/Qun-synthesizer .
For EU/UK area customers : We don't collect VAT or any tax. The custom will charge VAT and custom fee.
Nunomo provides 1 year warranty for this item.