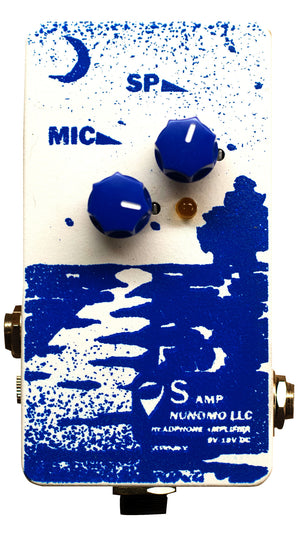 S-AMP
Sale price Price $ 180.00 Regular price
 A premium headphone amp for guitar practice, sound captured by REAL microphone.
S-AMP is a headphone amplifier specially designed for guitar practice, also it can be used as cabinet simulator.
In order to make natural sound, we put an speaker unit for earbud and microphone into stomp box (this idea is patent pending). After signal goes into the device, then sound will be out to internal speaker. Then sound immediately captured by internal microphone. You will hear "recorded" sound, it's like a super-micro cabinet in the pedal.

No compromising about sound
We put high-end components for no compromising sound quality. S-AMP uses a Balanced-armature unit (this type of unit is used only for high-end earbuds) for an internal speaker and MEMS Microphone for capturing sound. Both devices have excellent frequency response characteristics. You will hear bottom end to high end.
How to use
 S-AMP doesn't have much control to shape sound. There are two dials to control gain and volume. Speaker volume controls volume of Internal Speaker (not your headphone volume). Another dial controls Microphone gain. If you turn up speaker volume, you may need to reduce Mic gain. Typically you can get more dynamic sound and more bass by increasing speaker volume but sound is closer to DI sound.
If you increase Mic gain, you will hear more background noise and sound becomes more natural like recorded sound. Best position will vary by what guitar you are using or your preference.
You won't get distorted sound by turning knobs. If you are looking for a guitar headphone amp which has everything in one box, S-AMP is not the one. This box intend to work with other guitar pedals such as your favorite Overdrive, Fuzz, Tremoro, Reverb, or any other pedals. You may connect cable from end of your pedal stream into S-AMP, instead of connecting to your amp. 
S-AMP can be operated by 9V to 18V power. You can get extra headroom by using 18V power, but either case, please use quality power source for the sound. Using 200mA power supply is recommended.
Another purpose of S-AMP is recording. It has a TRS output, so you can connect it to your audio interface. You may be able to get natural sound than DI.
S-AMP is not designed to play under very loud environment like live house or in front of a speaker. This box will capture the background noise.
 Return policy:
We have one 1week return policy exclude shipping cost.