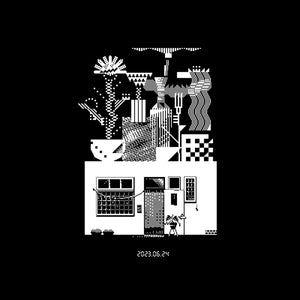 Hand-printed T-shirt designed by Hermippe, for the synthesizer event on June 24, 2023
Sale price Price $ 38.00 Regular price
This is a T-shirt designed and handprinted by talented Japanese designer Hermippe, who designed a custom front panel design for Qun mk2.
This design is made of two parts, one is the design for Qun mk2, complete illustration of the design without holes.
The bottom half is a sketch of tiny cafe called Room 1022 in Kichijoji, Tokyo which was closed 10 years ago. The cafe acts as more like a bar, I and my wife spent great time there.
There is a story about Hermippe and the cafe. I was looking for great artist who loves synthesizer, and I found him on Twitter. I just send DM him and he made the great art for us.
As I started to know about him, we found we both used to go the same cafe sometimes in the past. This is almost impossible to occur, because the cafe was not popular and there are thousands of cafe in Tokyo. This T-shirt was made for the memory of the coincident as well as the successful event held in Tokyo on June 24, 2023, with great synthesizer builders and artists.